No, I have not been kidnapped for weeks. And the knitting I
HAVE
done in this missing time - not many photos. I know, I know, C'MON LAURA BLOGS ARE FOR PHOTOS.
(You're too nice to shout. Thank you. But I digress.)
What
have
I done?
Suede Ugg booties, free pattern from the DIY show Knitty Gritty, which I gave (giggling and squealing) to a coworker before taking a photo
Back of Smooch is done (!!) and just finished the lace border of the front
A few inches of a four-year-old girl's poncho out of sari silk, frogged because it stretched
So yes, I still need to finish
my Gramma's pillow
(from MOTHER'S DAY, bad Laurakeet), which I'm putting off because I think I need to re-knit the loopy side (ah the PAIN) with a garter stitch border (that's listed in the pattern, but I forgot) and a nicer cast-off edge. I also need to adjust my gauge a bit, probably just by adding an extra couple stitches width-wise. Then it will fit on the pillow size I have!
Then it will truly be a labor of love. Margot loves the pillow, here shown in progress (click for a larger pic):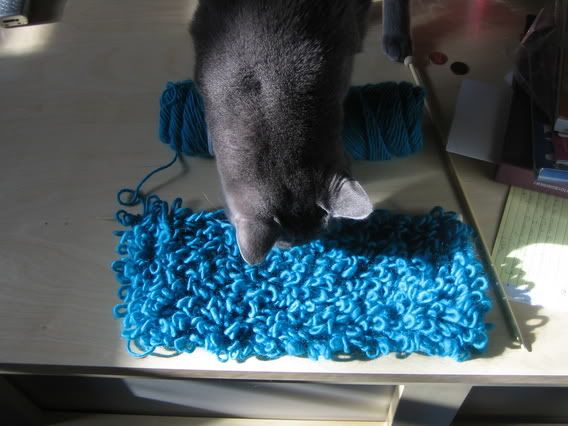 I also have Secret Mom Gift that needs to be seamed and fluffed up (heehee, that's all I write in case La Mama reads this).
Then...I'm almost out of UFO territory (UnFinished Objects, y'all) and into NEW PROJECT TIME WOO!
Sorry for all the shouting. I love the shift key toooo-day!