I first saw the phrase "vay-kay" in Seventeen magazine when I was, oh, seventeen or so. My friend Heather and I laughed heartily. I still say it with irony. (Do not judge me, readers, for I am still possessed of Sincere Language Skills.)
After doing the knitting tour of Albuquerque proper, the dahling C and I traveled north to Taos, a wonderful artist community (formerly peopled by D. H. Lawrence and Georgia O'Keefe) featuring the COMPLETELY fabulous and unbelievable
La Lana Wools
.
One more time:
La Lana Wools!
Click and buy, fer goodness's sake!!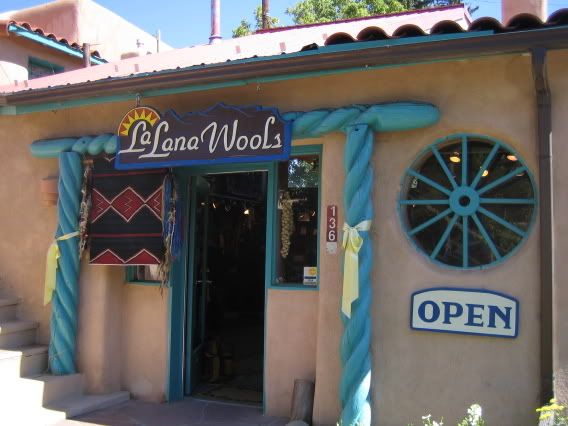 For most of the additional images, I'll post thumbnails. That one is work BIGNESS, though. Daaaaaaamn, that was some fine yarn and wearables. I wish I had tons more money so I could have bought the woven rugs and more of their patterns. As it was I spend plenty of moolah. Here I lie with enough yarn for four projects:
Note look of complete absorption! At the store I fondled and even test knit the 50/50 silk and wool yarn, Phat Silk, which I bought in green and purple (bee-yoo-tee-FULL) for two scarf projects. It goes with the gigantic curly "tailspun" for a wild and fun neck-wrap.
I also got some 100% silk boucle and more Phat Silk for a faux moebius, which I might make into a real moebius but keep the pretty lace pattern. And I got a gifty for Mom, some of the famous La Lana Forever Random wool with some 100% Bombyx silk to make a lil' drawstring bag.
Aside from knitting-related activities, Taos is gorgeous and adorable simultaneously. Sangre de Cristo mountains, adorable downtown area...twisty, green northern New Mexico back roads, touristy yet arty plaza...fantastico.
Also, great food. We ate at the nice-fancy-ish places at night, so the photos were no good. However, brunch at the diner near our motel was faboo! Huevos rancheros, y'all.
That look means "I feel guilty for eating this, but it is so good!" You can see the shadow of the drippin' queso on my tank top. Mmmm.
On the drive back to Albuquerque, we visited Angel Peak outside Santa Fe so we could take the ski lift up for an off-season view of...the whole damn state, practically!
The ski lift had hooks behind the seats for people to put bikes on. During spring/summer, you can bike down the ski trails. Whoa, dude. Charlie and I got a nice woman, reading a book, to take our photo outside the mountaintop lodge (closed for the season, sadly).
At the bottom of the mountain was a kiddie playland, though C and I couldn't figure out why it was there (this tourist stop is off the beaten path, at least during summer). There was a bouncy inflatable dragon thing that cracked us up, especially after I did this:
Oh, and where else did we stop? Hint: fiber related.
Yep, Victory Ranch Alpacas.
I fed that little guy, and this little guy --
-- a total pig who came running when our tour guide opened the gates. Alpacas running = high comedy.
The gift shop had lots of woven and knitted alpaca garments, but most of the yarn available was millspun and not from the alpacas on the ranch. Luckily there was some spun, undyed alpaca as well as some alpaca fiber to fondle. Whee!
Alpacas are sometimes hungry:
Last bit: We went up one more mountain, this time the Sandias in Albuquerque. C and I went up this mountain via tram, as we did once before when I first visited him in ABQ four years ago.
Here is a photo of us smooching.
(Don't say I didn't warn you.)
Did I mention C is great? He can do impressions, too, such as Sam the Big Cat doing his lazy/mean face:
So, in summary, the trip was great. Now I only have two more big things to discuss (well, maybe three) to catch up: Stitches Midwest, my mom and bro visiting, and my first "knitting in public" with the Wicker Park group (featuring
Bonne Marie
and company).