Finally! First, a photo of two gifts for two love-r-ly ladies. On the left, a Hannah in a barely-visible bulky cabled hat. On the right, an Amanda in a drop-stitch thick & thin wool scarf. It's OnLine Linie Jumbo that I got from
knitwerx
. Yay Yarnni and size 35 needles!
(Click on all of these photos to see them full-size.)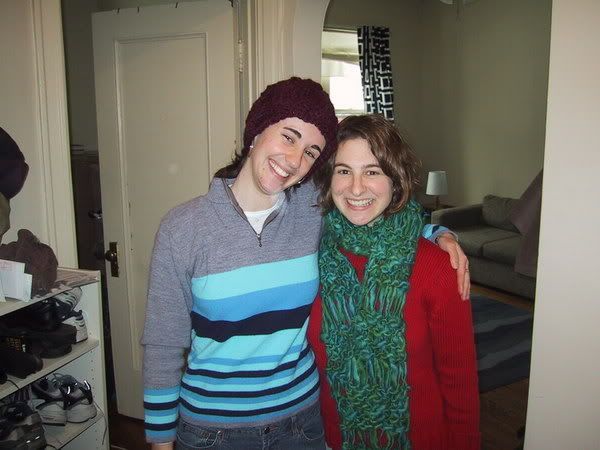 (Also, I gave Hannah that sweater. I didn't knit it; just a hand-me-down.)
Then we have a photo of my lovely Rowan Ribbon Twist sweater-in-progress, from the yarn's own collection: the shy, the bold, the contradictory cardigan called
Honey
.
Here's a photo of the whole shebang minus sleeves, pre-blocking, followed by a close-up of the edging stitch, a cute wavy triangular jobber.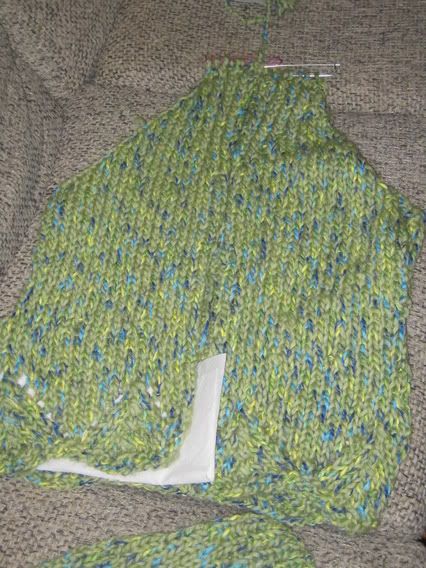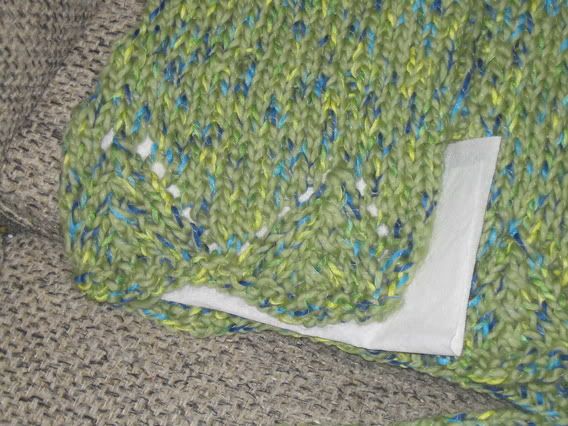 It sleeps in this
bag
.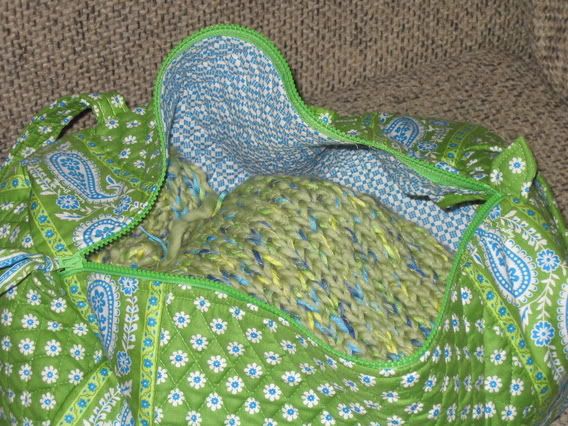 Before the ribbon twist, I started knitting
Banff from Knitty
in a Rowan chunky tweed yarn I bought on Ebay from
Jannette in the UK
. It was an unreleased shade so mega-cheapo, plus brrrrown which I loves, I does. The ribbing is killing me, though, so far all I have is this...(Sorry for the crapola photo. Brown is not so easy to pho-to-graff.)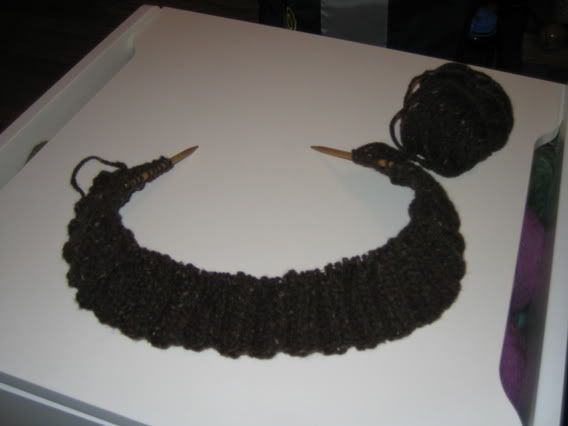 I'm also doing another drop-stitch scarf in Lion's Incredible ribbon yarn. Incredibly twisty, that is. Though it doesn't look neat, I think it's cool-neat, if ya dig.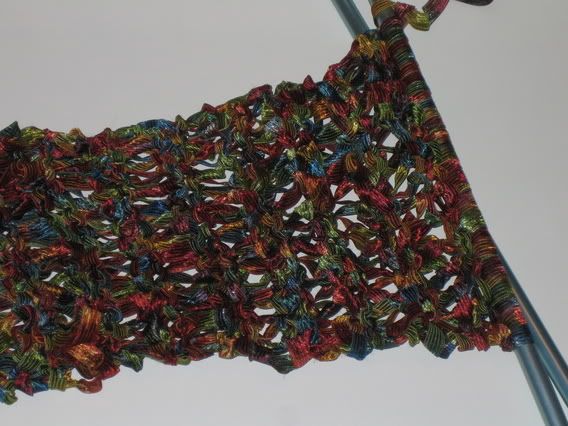 Finally, here is some of my stash. Uh, I actually have TWO drawers full of yarn, but this one was prettier on top. It's an Ikea coffee table with two pull-out drawers. Awesome.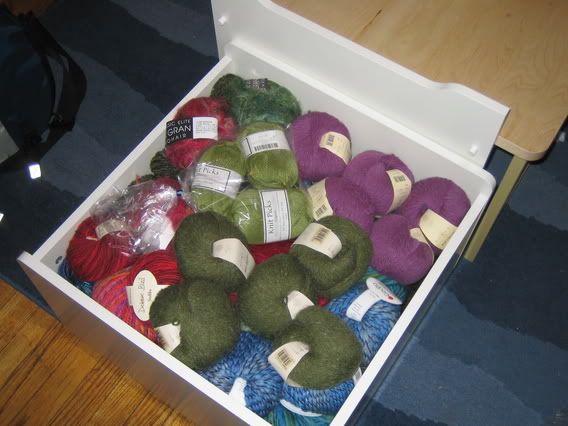 Now I hope I don't look terribly giant-needle-crazy, though I do seem to be this week. Actually that stash drawer makes me look mohair-crazy. What can I say, I can't resist Rowan's kid classic, nor can I hold back when
Little Knits' Sue
has a sale on La Gran. It's stashability at its finest. Plus I can't recommend Sue highly enough. If you're in Seattle, you can even meet her at her "real" brick-and-mortar store. Online, she'll give you 20% off your first order (non-sale items, but the SALES people! It's all fine).
I'm actually thinking of knitting something for Me Mama on sizes 2 and 3 needles. She reads this, though, so no more details 'til her birthday!